My name is Lin, I am 33 years old and besides being a passionate foodie, I am a NASM-certified Personal Trainer. After studying Chinese, I moved to China in 2011 and fell in love with triathlon after my first race. Living in Italy since September 2019, I followed my heart and started experimenting with new recipes. Combining this food passion with the ambition to support people with their training goals, I decided to start my own website.
The idea behind Lifting Spoons is to share some of my favourite recipes, training tips, workouts and (healthy) treats, so you can start your personal healthy routine that fits your taste.

If you have a training goal or just want to improve your general fitness and poster, let's look together how we can achieve your goals!
Scroll down to get in touch and have a chat 🙂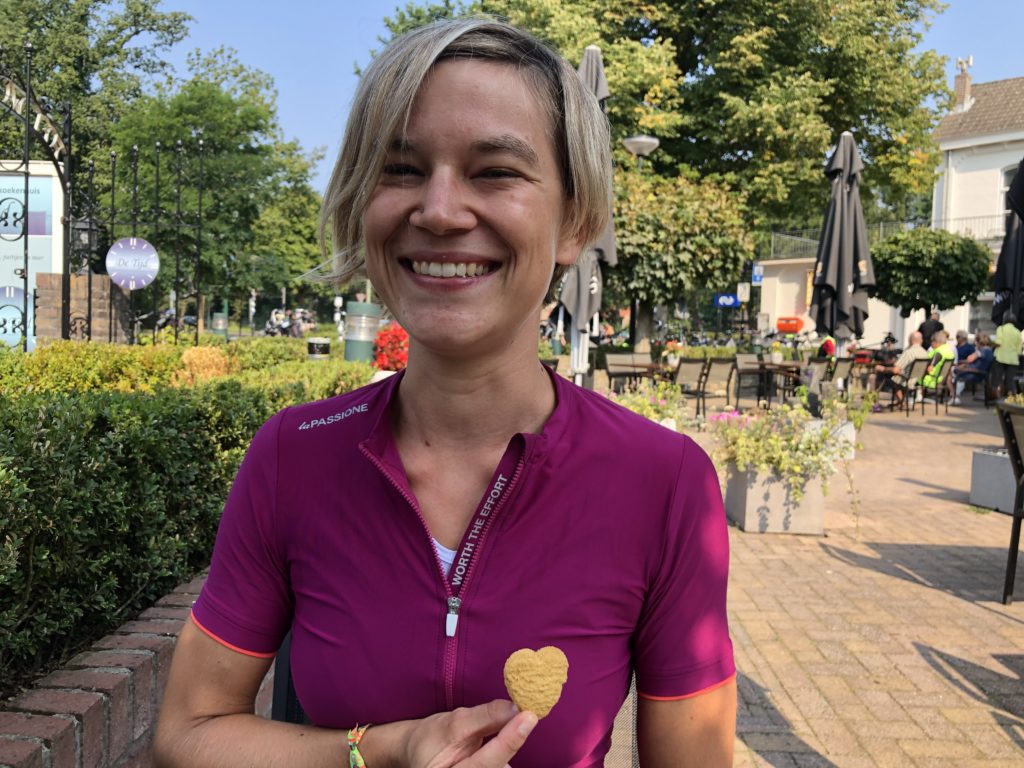 2017
2018
Taihu 300 km Bike Challenge 

Qiandao Lake OD Tri 

Ningbo Granfondo

Jinshan Beach OD Tri 

Qingyuan 30 km Trail Run 

Ningbo Nine Dragon Lake 20 km Trail 

Ningguo Granfondo 

Dishui Lake OD Tri

Chongming Island 70.3 Half Ironman

Fuyang River OD Tri
2019
Suzhou Half Marathon

Liuzhou 70.3 Half Ironman

Qiandao Lake OD Tri

Jinshan Beach OD Tri

Nice 70.3 Half Ironman WC

Berlin Marathon
2020
Wageningen University: Nutrition, Exercise & Sports

NASM: Personal Trainer Certification
2019
Coursera: The Science of Exercise

Hubspot: Inbound Marketing & Content Marketing
2011-2014
K.U. Leuven: Bachelor in Sinology

University of Antwerp: Master in Communication
Once Upon a Time - My Personal Story
Start to Run
Personally my interest lies in endurance sports, mainly triathlon and running. I have always been a runner. When I was a little girl, my parents took me for a walk. We passed the local athletics track where a friendly running race was held. My Dad, a former physical education teacher and triathlete, had the spontaneous idea to have his daughter participate.
And so it turned out I did have some running genes: I won the race, wearing nothing more than my leisure shoes. After this, my parents put me on track and field sports. In high school I always rode my bicycle to school, which was 15km in the morning and in the afternoon back home again. However, I never really saw the fun of racing. It just made me nervous and I had no idea how to feel prepared.
After graduating from my Chinese studies in 2011, I moved to China for an exchange year in Nanjing. This was the beginning of a very different kind of sports experience, one that I could have never imagined before. Cause after all, who would think China is the right place for outdoor training?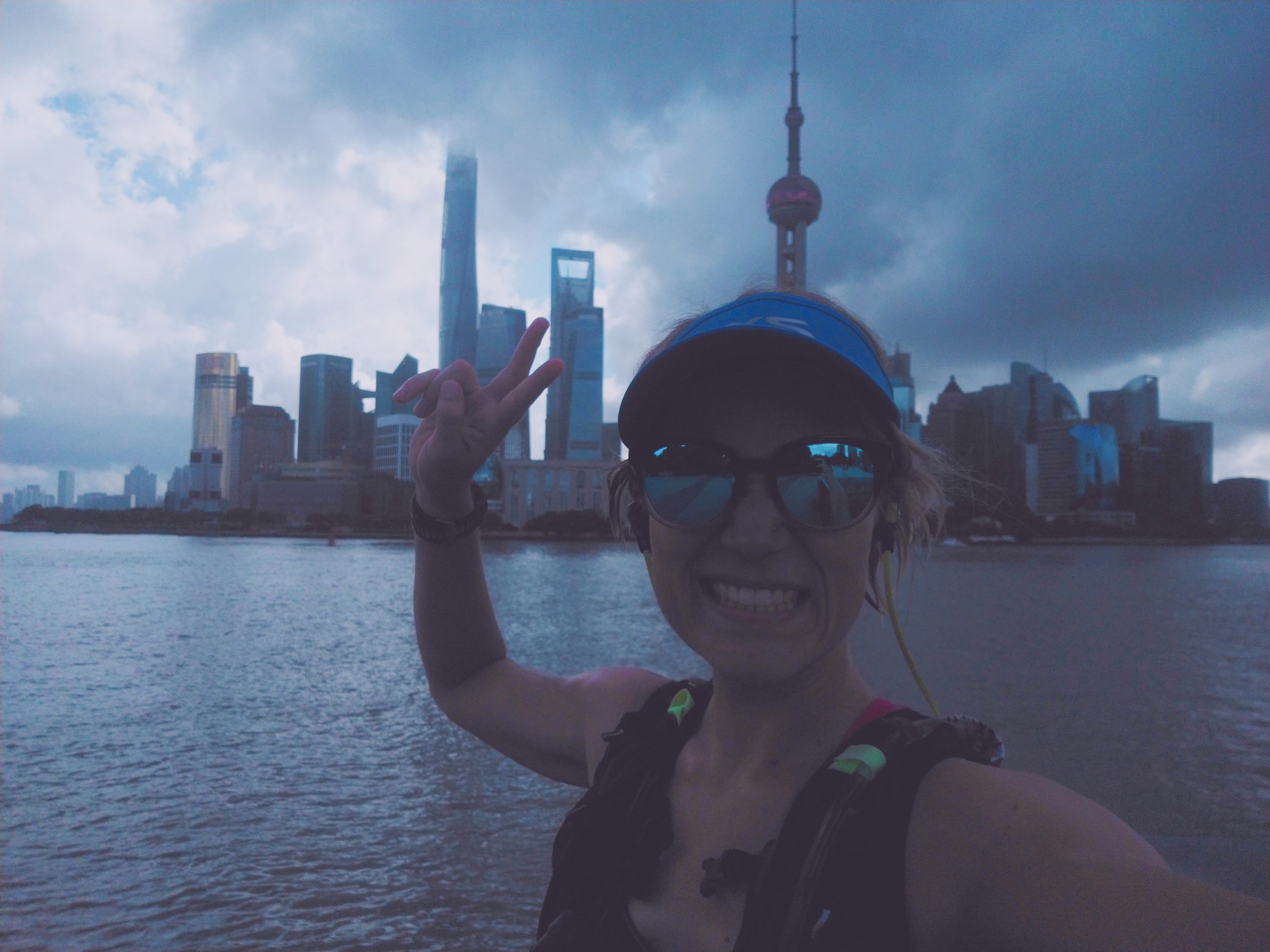 Who would have thought China is the right place for outdoor training?
Shanghai Inspired Me to Train Together
It all started when I moved to Shanghai in 2017. Looking for a new community to hang out with, I found Fitfam. As the name hints, this is a group of fit people that call themselves a family. It can be nice having something like a "family" far from home.
These sporty, super-motivated and endless energetic souls loved to work out early mornings 6:00 AM at the nearby outdoor sports track. People volunteered to rotate in leading exciting HIIT (High Intensity Interval Training) work outs for anyone who wanted to join, for free, every day, rain or shine. This is where I found the inspiration to register for my first Olympic distance triathlon together with three other crazy ladies.
We really had no idea what we were starting, we had no equipment whatsoever (I literally borrowed all my gear from my colleagues and friends for my first race), but we were damn motivated to do this.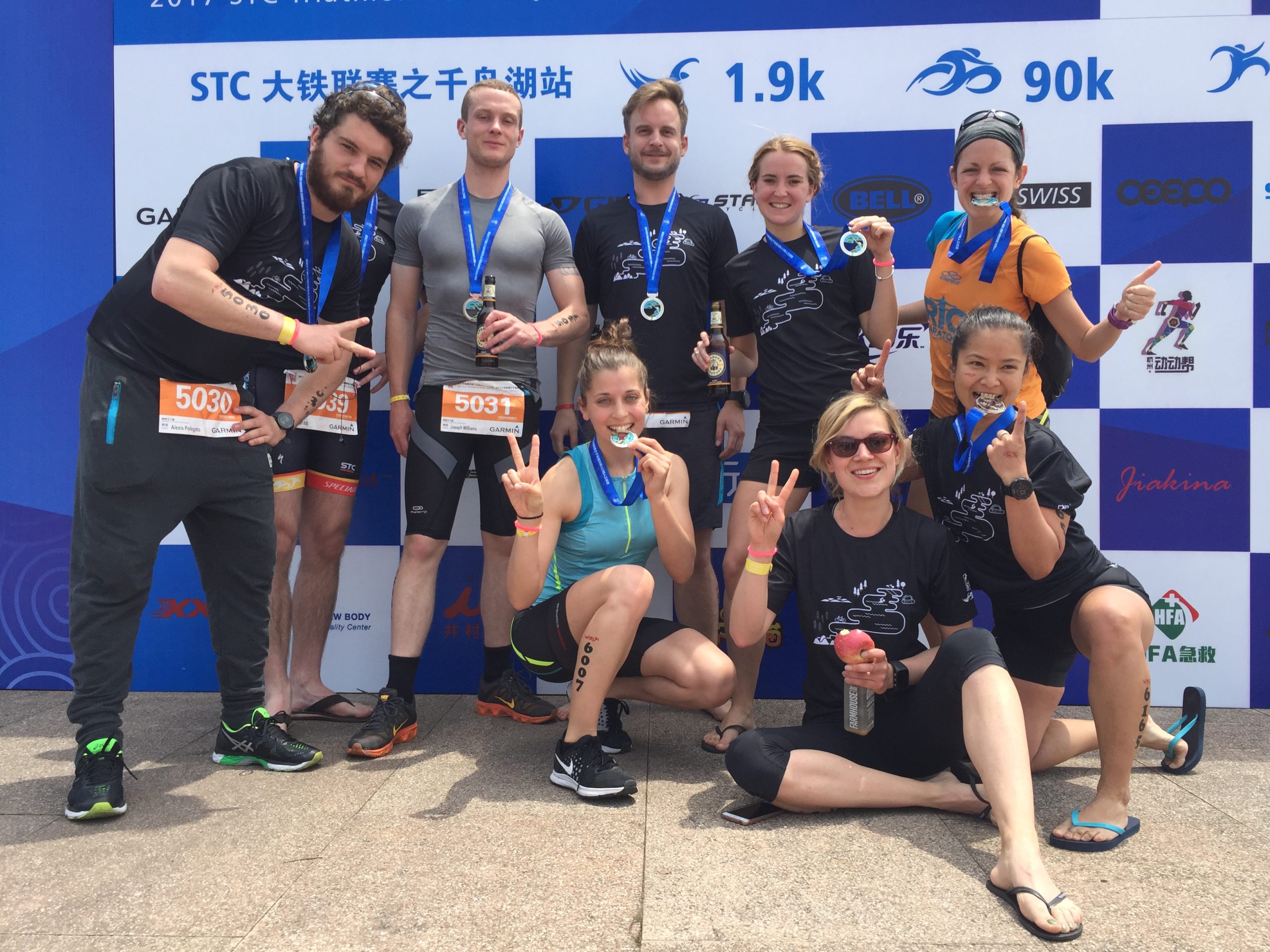 Our finisher crew of that very first Olympic Tri
The Endurance Journey
After the first triathlon, soon came the second, the third, the fourth and many, many more… The challenge of improvement started. I wanted to learn more about my own body, my physical performance and see how specific training would have an impact.
In October 2018, I did my first 70.3 Half Ironman in Shanghai, which was an incredible but tough experience. I died on the run, and after that really wanted to know how to avoid this and become better. I had been running all my life, after all, so how could this be? So I hired a triathlon coach, who worked with me for a year and taught me some basic training principles that would be of great importance to the rest of my sports career.
The Cherry on the Pie
2019 was an important year where months of training came together and paid off: I qualified for the 70.3 Half Ironman World Championships in Nice and participated to (my first) Berlin Marathon, both in September.
It was not only about completing these races, but merely about the journey getting there. I had spent so many mornings swimming, cycling and running. Friday nights when most people stayed out late for drinks was my early-night so I could get up at 5AM Saturday and get my long outdoor ride of the week. I loved it! So much energy in my veins. So many inspiring people along the road.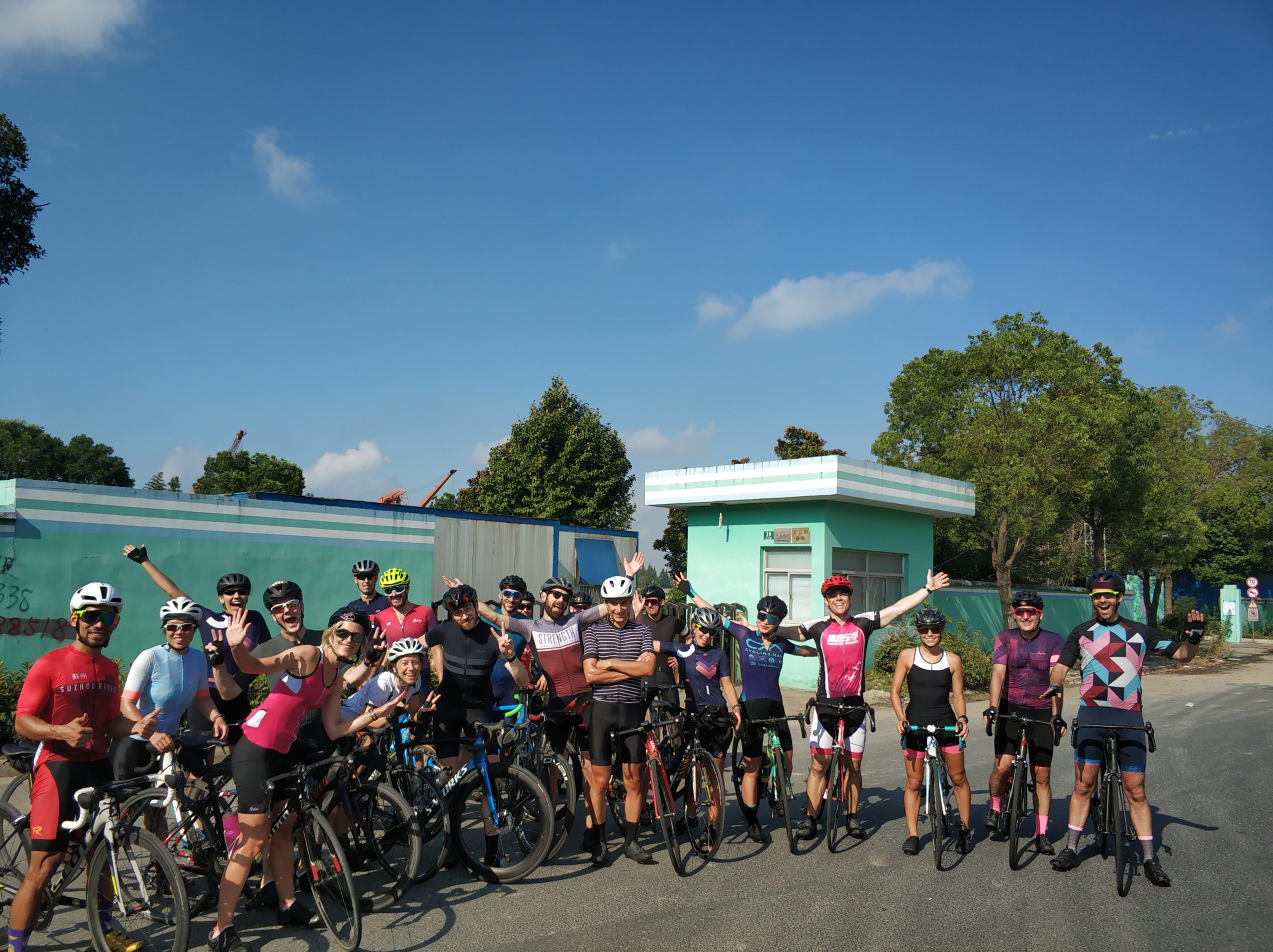 Get up at 5AM Saturday and get my long outdoor ride of the week with inspiring people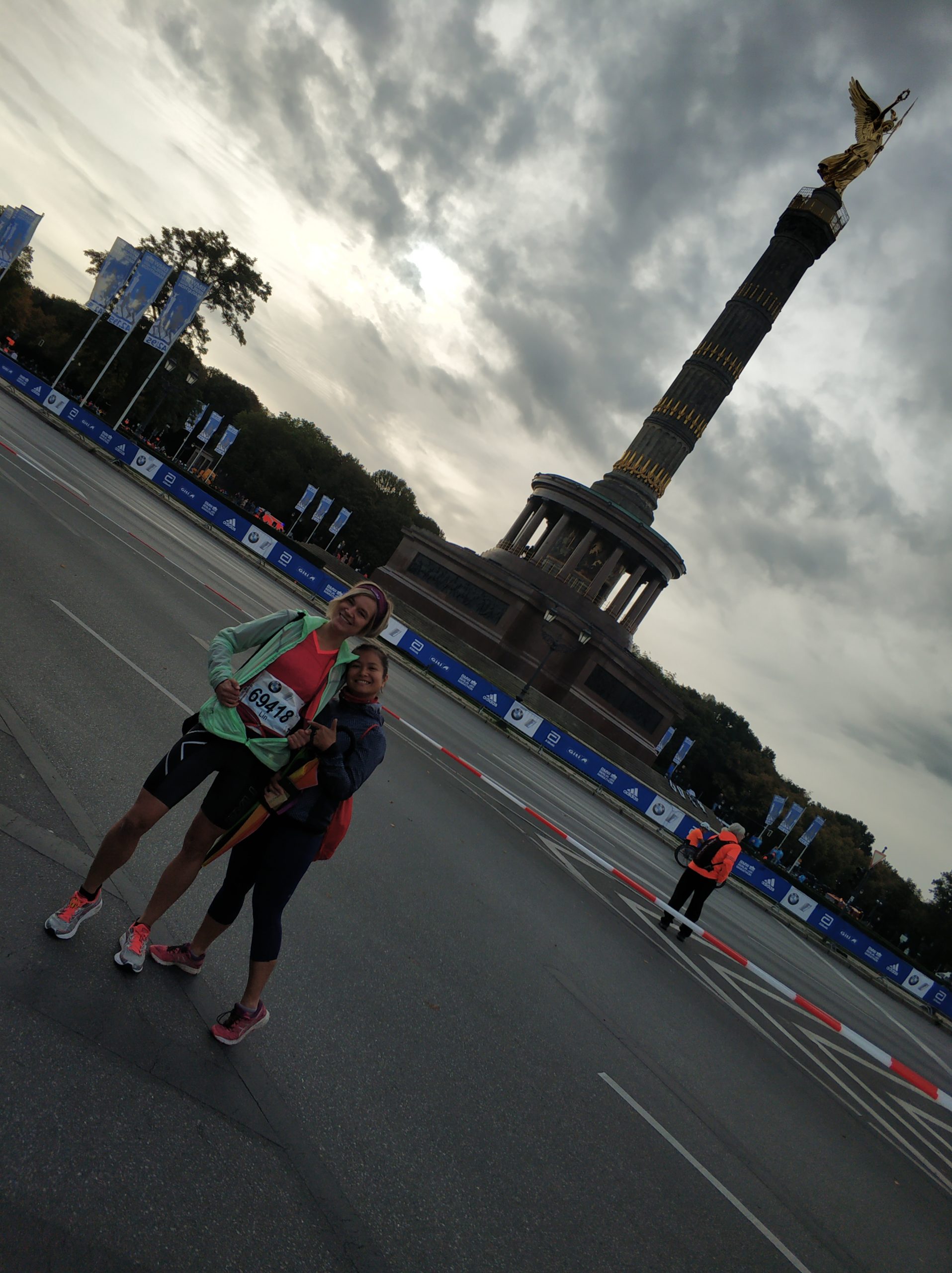 I could have never done this myself
Vegetarian Foodie Tales
Besides being an athlete, I have always been a Foodie! When I was little my Mom loved to cook, and she still does. She made dishes from around the world. When at age 11 I decided to stop eating meat and call myself a vegetarian, although still eating fish, she would take this as a challenge to learn new veggie dishes.
Living China left it's marks on my cooking style. After a busy work day I would just grab the wok, add some fresh veggies and stir fry them with some ginger and garlic. Always conscious of adding enough protein into my diet, I would add some tofu, egg or lentils and combine it with my favourite go-to grain; barley. The leftovers went into my lunch box for the next day at the office, where the colleagues would go "What, did you make that yourself?!" again.
In the morning always one banana with peanut or almond butter and a black coffee before training. Before heading to work, I would have my oats with blueberries, nuts and seeds if time allowed, or grab some homemade overnight oats out of the fridge and eat it in the office.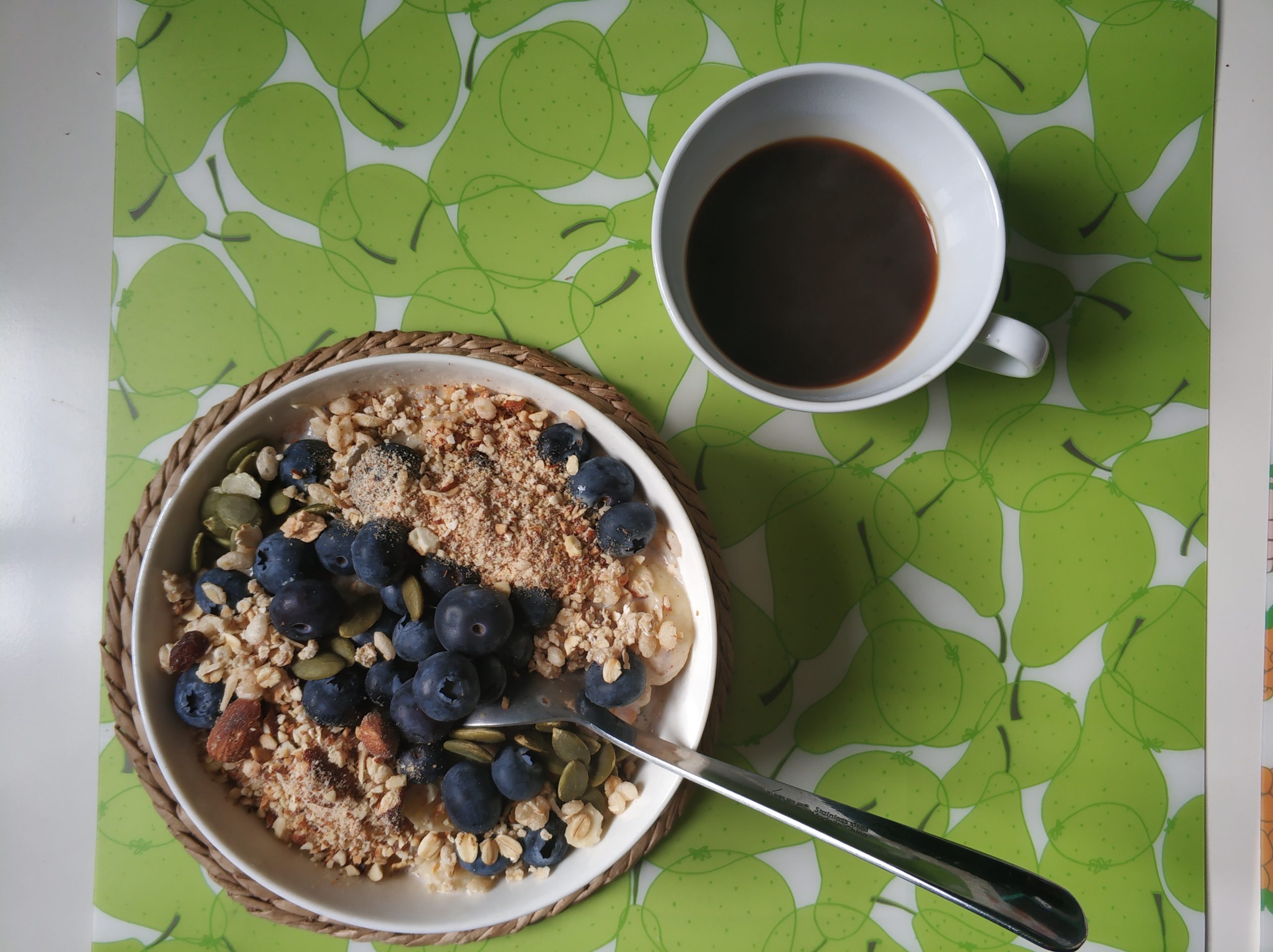 Before heading to work, I would have my oats with blueberries, nuts and seeds
From China to Italy – Food For Thought
Returning to Europe changed my life completely. Swapping Chinese dumplings for Italian ravioli and noodles for pasta was an unexpected trade-off. Not one I had planned for, but just one that needed a bit of time to settle in. Saying goodbye to my busy Shanghai life was strange, but a conscious decision.
Learning a new language would take time. But if anything, now I had time! So to cook and try all the amazing and mouth-watering dishes I had stocked up in my Pinterest app, that was the real deal. In our new apartment with splendid kitchen, it was bliss to try out the oven for granola, grilled veggies, whole wheat pizza and banana-carrot bread.
Still fascinated by the Asian cuisine and craving a bowl of Japanese soba noodles occasionally, I started to appreciate the Italian pasta, espresso macchiato and the occasional chocolate brioche that almost obligatory comes with it in the morning.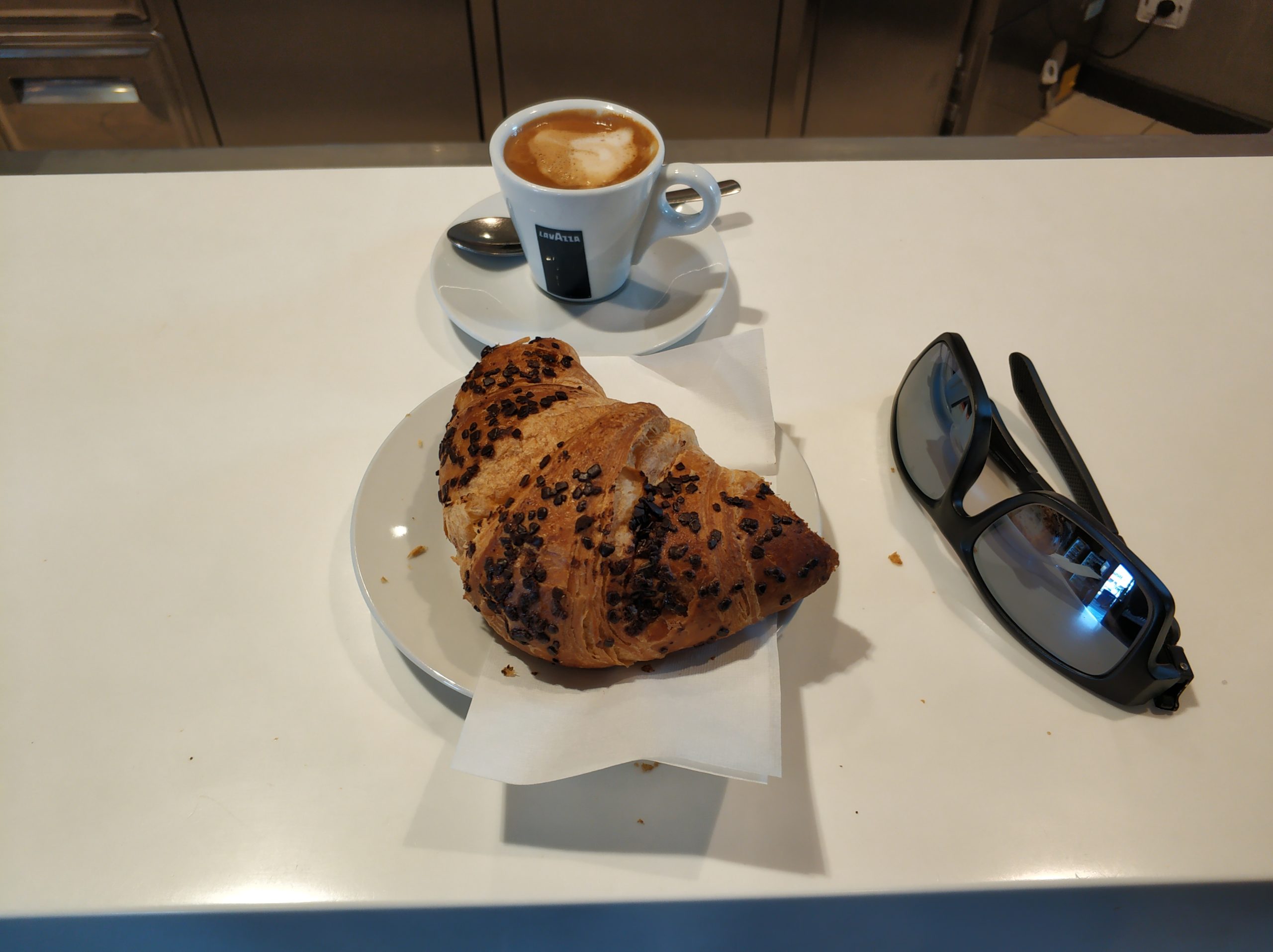 Espresso macchiato with a chocolate brioche
New Goals in Life
To this new phase in my life belonged new goals. They might seem very general, but whatever action I take, it should fit into one of these new goals. Let me share them with you below:
Care for the people you love

Live in the moment

Let go

Stay healthy and fit

Follow your heart, your passions and believe in yourself
Lifting Spoons
So herewith came into life Lifting Spoons, where I like to share tips, knowledge and stories on endurance sports, personal training, food and nutrition. If you have any suggestions, questions or topics that you would like me to elaborate on, drop me an email on info@liftingspoons.com.
Happy Training!
Follow me on Social Media
You can reach me by sending a message to info@liftingspoons.com. Please mention your name in the subject of the e-mail so I know it's not SPAM. Thank you!