Quarantine Easter Brunch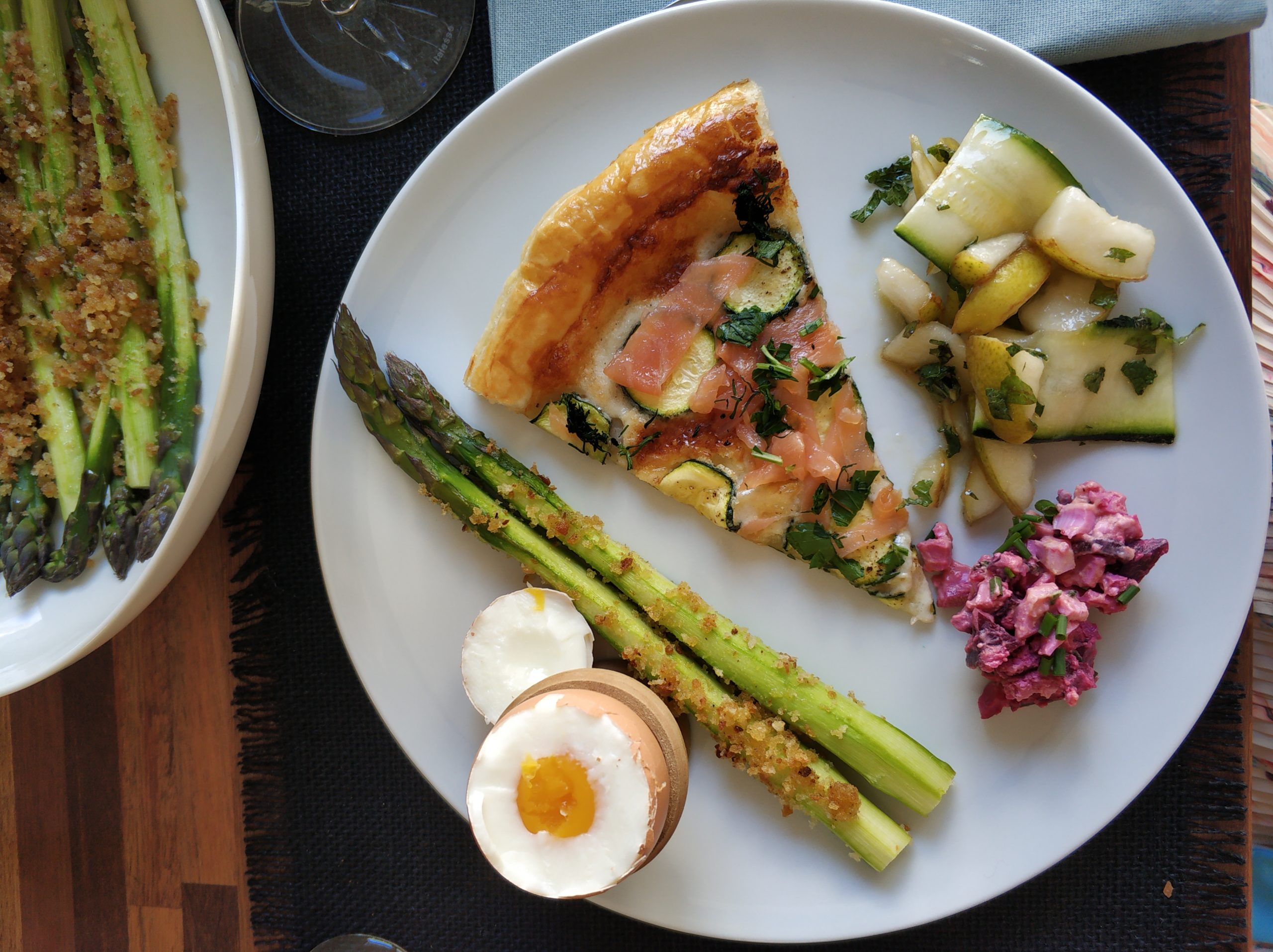 We live in Milan, and due to the Corona virus we were forced to stay indoor since the beginning of March. One month later, we were thinking how to celebrate Easter indoors. And we came up with an indoor Easter egg hunt, a 400km indoor cycling challenge on the terrace divided over the two of us, followed by a healthy brunch.
For this Easter Brunch I was looking for something colourful and tasty, yet fresh. Inspired by the flowering Spring trees with their "ready-to-eat" leaves, I opted for bright green, purple, light pink and warm yellow. Easy, no? Below you can find our menu together with the preparation instructions if you would like to try it for yourself. Happy cooking and Happy Easter!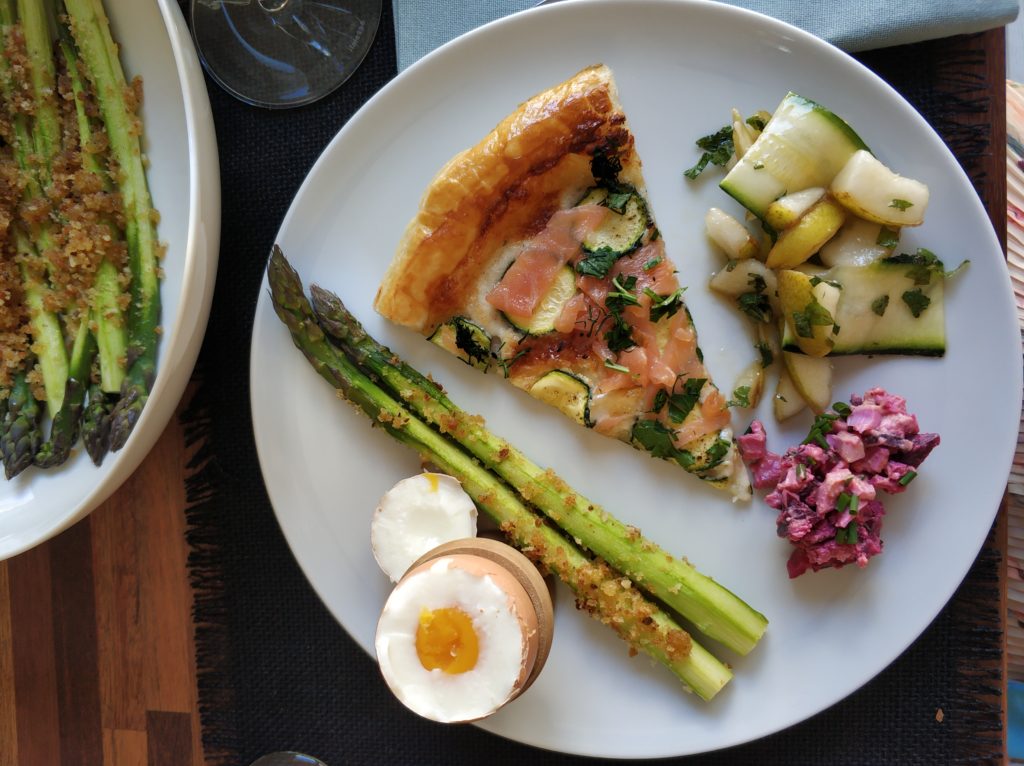 Our Easter Brunch Menu
Zucchini and Pear Salad with Mint
Salmon Zucchini Puff Pastry
Green Asparagus with Soft Boiled Egg and Rye Bread
Egg Spread with Red Beet, Feta and Chives
Fresh Apple Cake with Lemon and Yogurt
Zucchini and Pear Salad with Mint
Ingredients for 2 people:
1 zucchini
2 pears
juice of 1/2 lemon
2 tbsp apple cider vinegar
2 tbsp sugar
2 tbsp olive oil
7 gr mint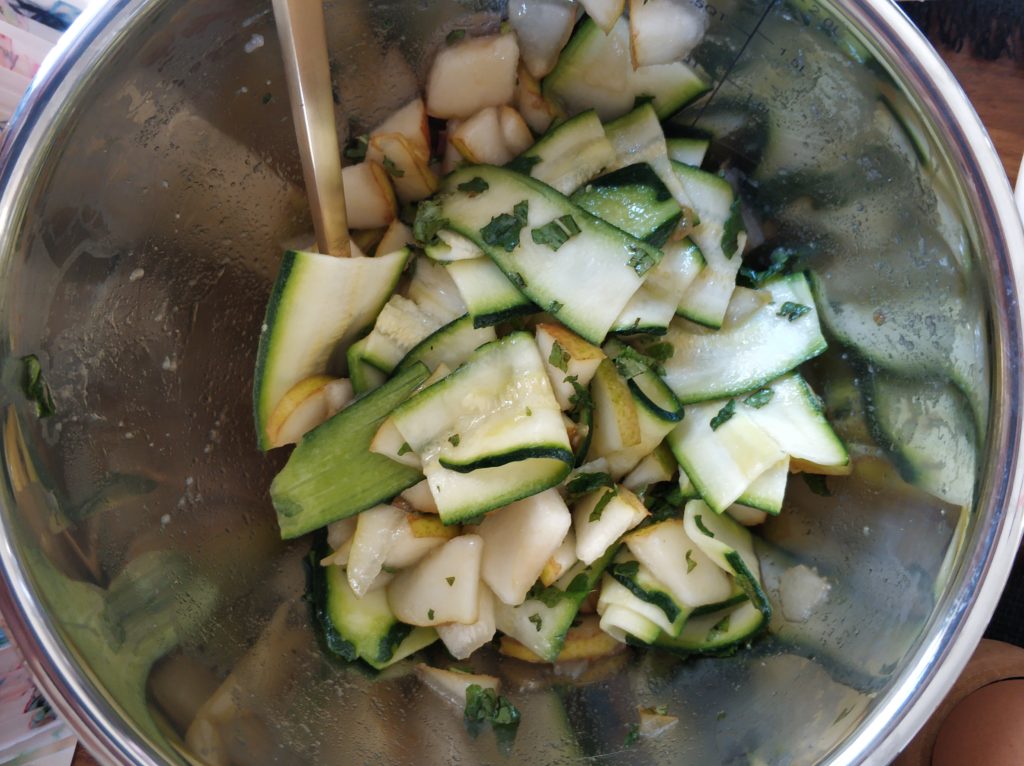 Cooking Instructions:
Slice the zucchini lengthwise and cut into two. Slice the pears into bite-size pieces and squeeze 1/2 lemon juice over it to prevent from turning brown. Stir the olive oil, vinegar and sugar together. Tear off the mint leaves, cut into very small pieces and sprinkle over the salad. Stir everything once or twice, don't overdo it or the pear will become mushy. Also nice if you put the salad into the fridge for an hour. Only add the dressing right before serving.
Salmon Zucchini Puff Pastry
Ingredients for 2 people:
1 zucchini
1 roll of fresh puff pastry
100 gr grated Parmesan cheese
100 gr creme fraiche
1 egg
100 gr smoked salmon, cut into strips
7 gr dill
7 gr parsley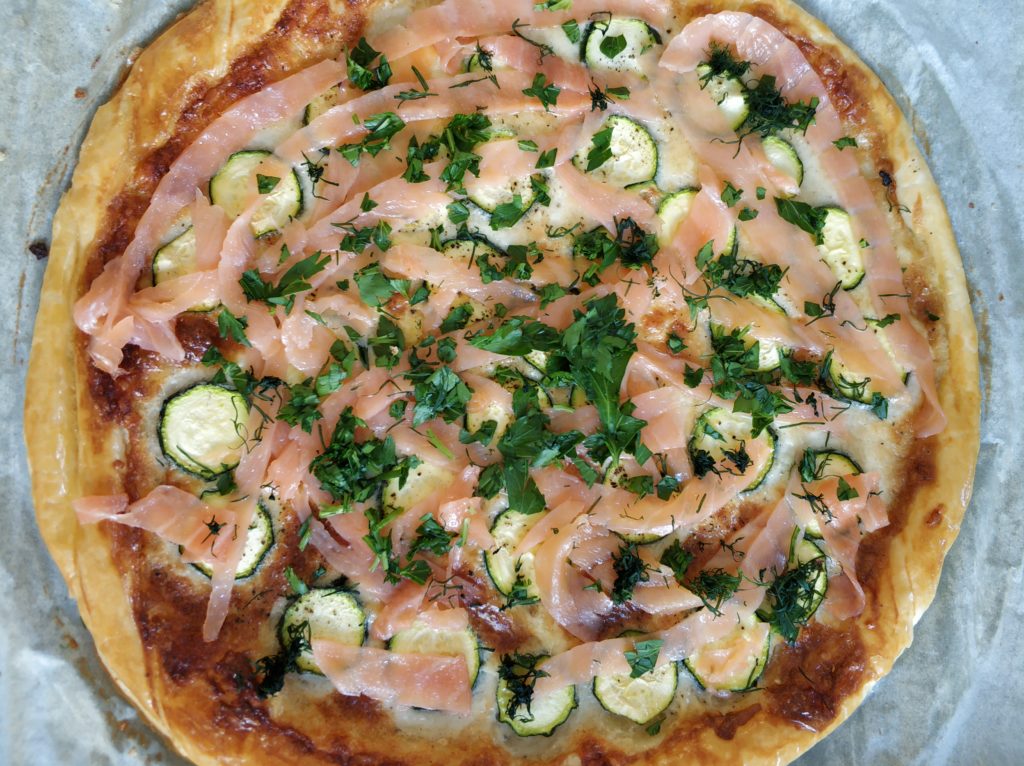 Cooking Instructions:
Preheat the oven to 200°C. Cut the zucchini into round slices. Grate the Parmesan cheese and stir it with the creme fraiche. Add salt and pepper. Beat the egg, slice the dill and parsley into small pieces and put aside. Roll out the puff pastry and add the cheese mixture, then top with the zucchini and bake for 25-30 minutes. Add the salmon when it comes out of the oven and sprinkle with the dill and parsley. Serve warm.
Green Asparagus with Soft Boiled Egg and Rye Bread
Ingredients for 2 people:
500 gr green asparagus
4 tbsp olive oil
20 gr Panko (breadcrumbs)
4 slices of rye bread in the oven
2 eggs
Pepper and salt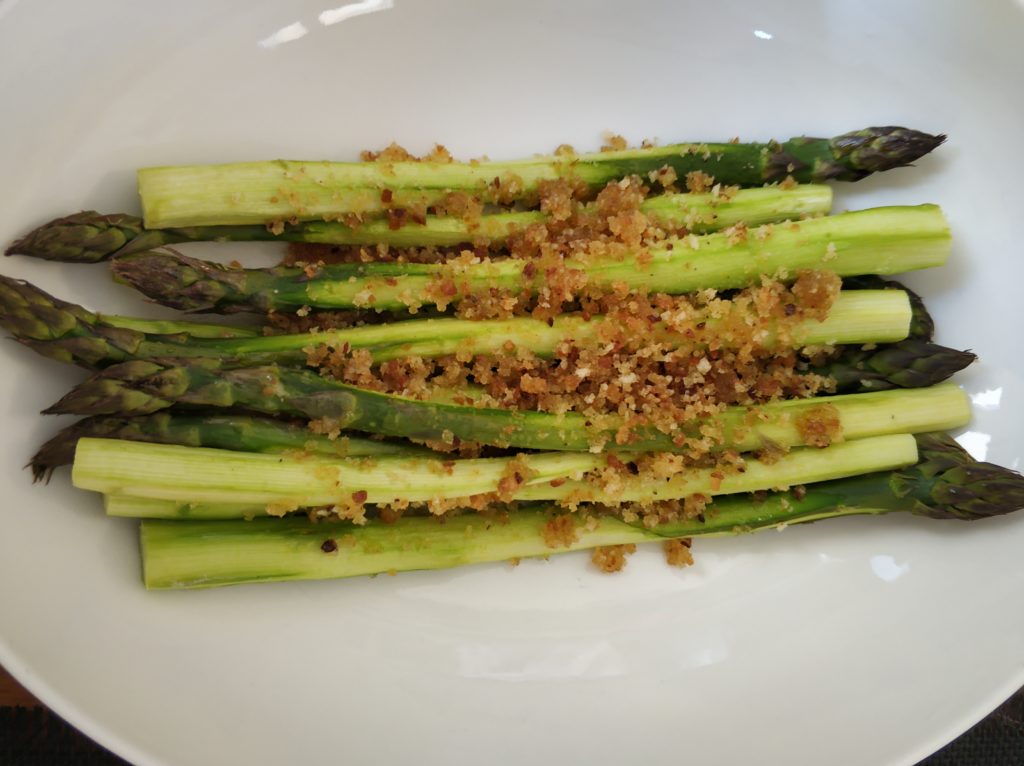 Cooking Instructions:
Cut off 2 centimeters of the stem and peel the asparagus. Line them on a baking tray and sprinkle with 2 tablespoons of olive oil. Mix the Panko with the remaining 2 tablespoons of olive oil, add salt and pepper, and sprinkle over the asparagus. Place into the oven together with the bread for 8-10 minutes.
Boil the eggs for 5 minutes and serve all together. Try dipping the asparagus into your egg.
Egg Spread with Red Beet, Feta and Chives
Ingredients:
4 eggs
4 tbsp yogurt mayonnaise
1 beetroot (precooked)
150 gr of feta
20 sprigs of fresh chives
Pepper
Salt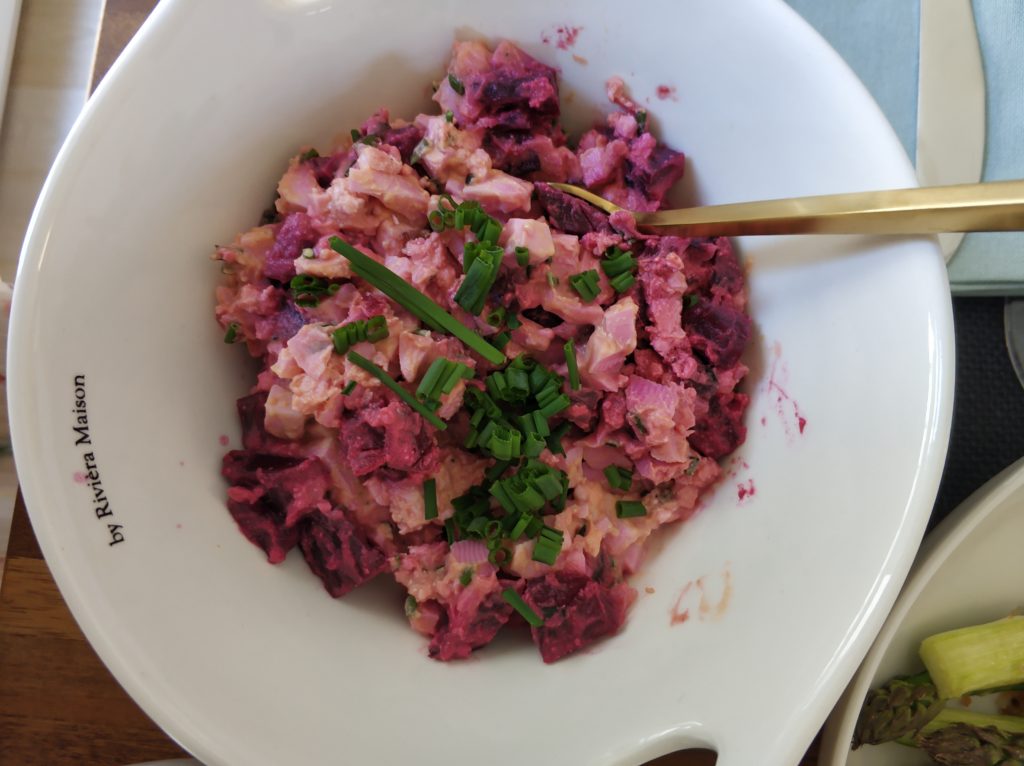 Cooking Instructions:
Boil the eggs for 10 minutes. Cut the eggs and beetroot into small pieces, mix together and add the yogurt mayonnaise, salt and pepper. Crumble the feta over it. Cut the chives into small pieces and mix everything well. Goes excellent with your toasted rye bread.
Fresh Apple Cake with Lemon and Yogurt
Ingredients for one cake:
200 gr of sugar
1 packet of vanilla-flavoured sugar
250 gr of butter at room temperature
4 eggs
250 gr of self-raising flour
A pinch of salt
125 gr of Greek yogurt
1 large lemon, grated and squeezed
For the filling:
3 sour apples
50 gr of raisins
3 tsp of sugar
Juice of 1/2 lemon
1 tsp of cinnamon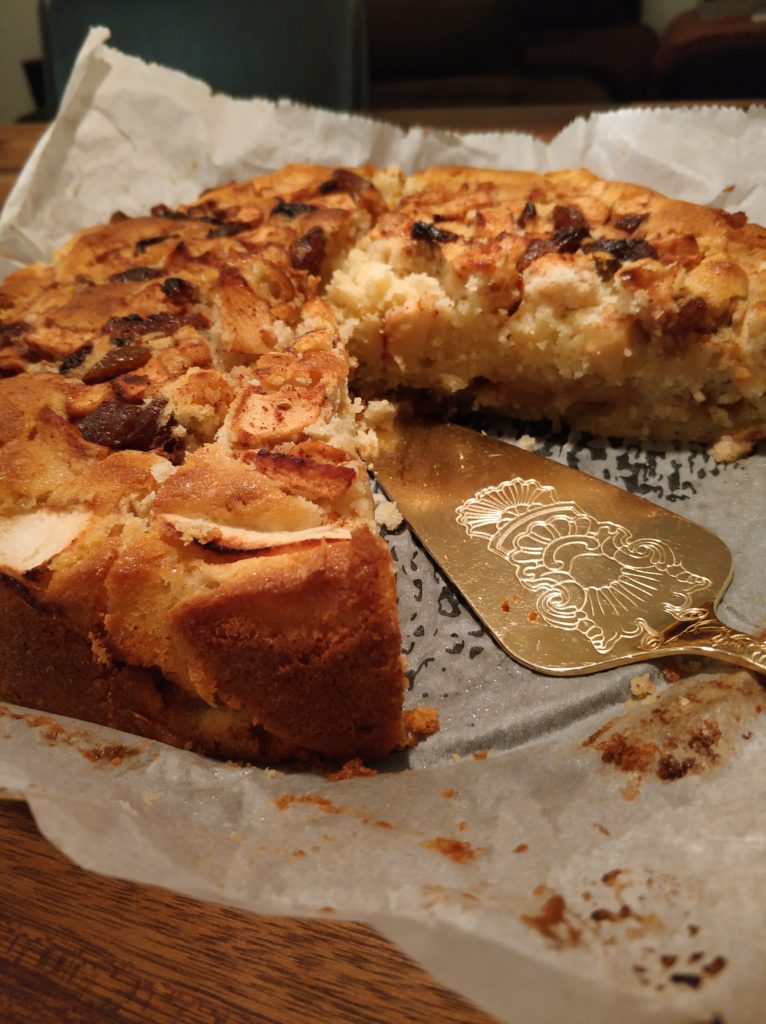 Cooking Instructions:
Beat the butter together with the sugar till the yellow colour changes into (more) white and it becomes fluffy and light (about 5 minutes). Mix the flour with the vanilla sugar and salt. Add in the eggs one by one and keep whipping till it is a creamy mixture. Then add the flour in batches and stir it into the batter till it is fully absorbed. Mix the yogurt with the grated lemon and lemon juice, and stir into the rest of your cake mixture.
Preheat the oven to 180°C. Peel the apples, cut them into small cubes and add the 1/2 lemon's juice. Soak the raisins, rinse them and dip them dry with kitchen towel. Mix with the apples, sugar and cinnamon. Stir into your dough mixture and pour into a spring form. Place into the oven for 45-60 minutes or until it turns golden brown. Peek a knife into your cake, if it comes out clean you can take it out and let it cool. I liked it both a little warm and smooth, as completely chilled. You can store it in the fridge, the consistency will be more solid.
---